Monistat® 3 Vaginal Antifungal Combination Pack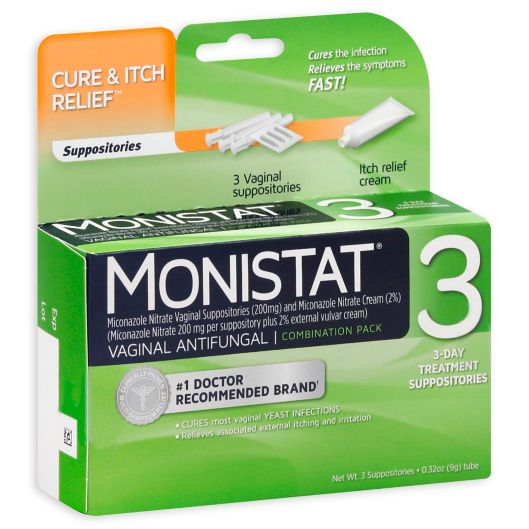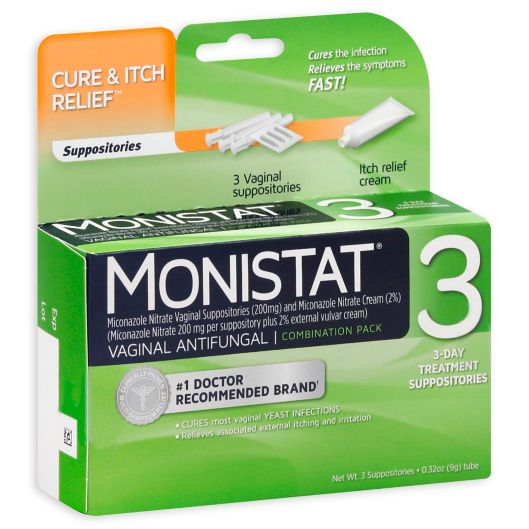 Monistat
Monistat® 3 Vaginal Antifungal Combination Pack
70 people have this in their cart
Details
To treat a yeast infection and its symptoms, Monistat 3 Vaginal Antifungal Combination Pack offers a simple 3-day process for quick relief.
Monistat 3 Vaginal Antifungal Combination Pack cures the infection and relieves symptoms for quick relief
Clinically proven multi-symptom relief
No. 1 doctor recommended brand (Based on a 2012 survey among OB/GYNs and primary care physicians who recommend an over-the-counter brand of vaginal yeast treatments)
Cures most vaginal yeast infections
Relieves associated external itching and irritation
Do not use if printed suppository blister is torn, open, or incompletely sealed
Do not use if seal over tube opening has been punctured
Do not purchase if carton is open
Store at 68 degrees - 77 degrees F (20 degrees - 25 degrees C)
Includes:

3 vaginal suppositories, Miconazole Nitrate (200 mg)
1 tube itch relief cream, Miconazole Nitrate (2%)

3-day treatment suppositories
How to choose the right Monistat for you

Step 1: Choose Dosage: Monistat is available in 1, 3 or 7 day dosing
Step 2: Choose Form: Monistat is available is Less Mess Ovule, soothing creams and traditional suppositories
Step 3: Choose System: Complete Therapy contains the cure, external itch relief cream and cool wipes; Cure & Itch Relief contains the cure and external itch relief cream; Simple Cure contains just the cure

For information visit our website at www.monistat.com
If you have questions or comments, please call 1-877-MONISTAT (1-877-666-4782) or visit our website
Made in USA
Manufacturer
Insight Pharmaceuticals Corp
Langhorne, PA 19047
Indications
Uses: Treats vaginal yeast infections. Relieves external itching and irritation due to a vaginal yeast infection.
Directions
Directions: Before using this product read the enclosed consumer information leaflet for complete directions and information. Adults and Children 12 Years of Age and Over: Suppositories: Insert 1 suppository into the vagina at bedtime for 3 nights in a row. Throw applicator away after use. External Cream: Squeeze a small amount of cream onto your fingertip. Apply the cream onto the itchy, irritated skin outside the vagina (vulva). Use 2 times daily for up to 7 days, as needed. Children Under 12 Years of Age: Ask a doctor.
Ingredients
Active Ingredients: Miconazole Nitrate (200 mg in Each Suppository), Miconazole Nitrate (2%) (External Cream). Purpose: Vaginal Antifungal, Vaginal Antifungal. Inactive Ingredients: Suppository: Hydrogenated Vegetable Oil Base. External Cream: Benzoic Acid, Cetyl Alcohol, Isopropyl Myristate, Polysorbate 60, Potassium Hydroxide, Propylene Glycol, Purified Water, Stearyl Alcohol.
Warnings
Warnings: For vaginal use only. Do not use: if you have never had a vaginal yeast infection diagnosed by a doctor. Ask a doctor before use if you have vaginal itching and discomfort for the first time; lower abdominal, back or shoulder pain, fever, chills, nausea, vomiting, or foul-smelling vaginal discharge (You may have a more serious condition); vaginal yeast infections often (such as once a month or 3 in 6 months) (You could be pregnant or have a serious underlying medical cause for your symptoms, including diabetes or a weakened immune system); been exposed to the human immunodeficiency virus (HIV) that causes AIDS. Ask a doctor or pharmacist before use if you are taking the prescription blood thinning medicine warfarin, because bleeding or bruising may occur. When using this product: do not use tampons, douches, spermicides or other vaginal products (Condoms and diaphragms may be damaged and fail to prevent pregnancy or sexually transmitted diseases [STDs]); do not have vaginal intercourse; mild increase in vaginal burning, itching or irritation may occur; if you do not get complete relief ask a doctor before using another product. Stop use and ask a doctor if: symptoms do not get better in 3 days; symptoms last more than 7 days; you get a rash or hives, abdominal pain, fever, chills, nausea, vomiting, or foul-smelling vaginal discharge. Pregnancy/breast-feeding warning: If pregnant or breast-feeding, ask a health professional before use. Keep out of reach of children. If swallowed, get medical help or contact a Poison Control Center right away. Other warnings: Tamper-evident Unit: Do not use if printed applicator wrapper is torn, opened or incompletely sealed.
Related Categories
Related Searches