Just For Men® Mustache and Beard Brush-In Color Gel in Jet Black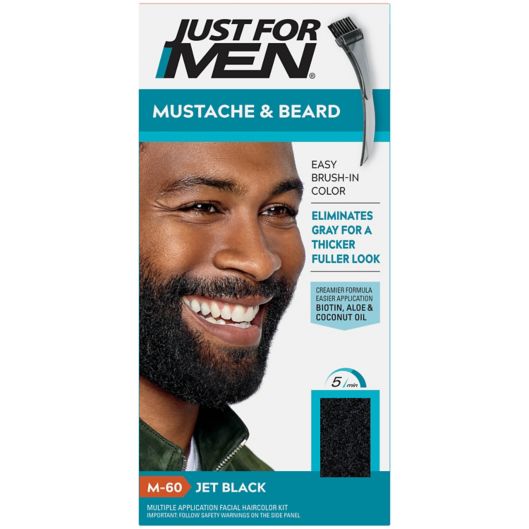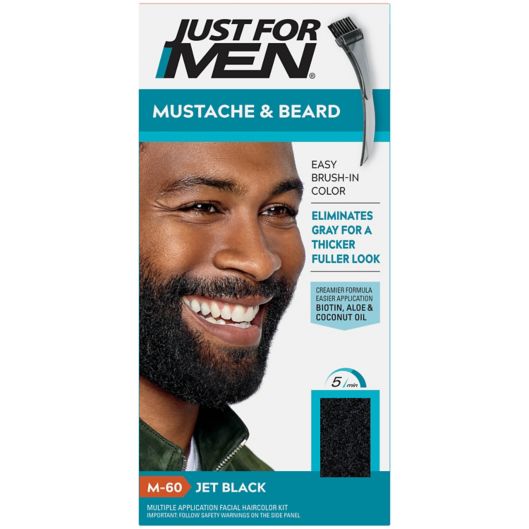 Just For Men
Just For Men® Mustache and Beard Brush-In Color Gel in Jet Black
164 people have this in their cart
Details
Just For Men Mustache and Beard Brush-In Color Gel takes just 5 minutes to eliminate gray facial hair. This non-drip easy brush-on application will have your mustache and beard naturally looking gray-free, with a fuller, younger appeal in minutes.
Just For Men Mustache and Beard Brush-In Color Gel
Brush-in gel formula made just for coarse facial hair
Fast and easy way to keep your facial hair looking its best
Avoid the scraggly look of gray hairs
Gentle, ammonia-free formula
Manufacturer
P&G
Cincinnati, OH 45202
Ingredients: Water, Coco Glucoside, Aminomethyl Propanol, Carbomer, Fragrance, Sodium Sulfite, Erythorbic Acid, Resorcinol, p-Phenylenediamine, Caramel, Trisodium EDTA, P-Aminophenol, M-Aminophenol, Cinnamidopropyltrimonium Chloride, Laurdimonium Hydroxypropyl Hydrolyzed Wheat Protein, Panthenol, Tocopheryl Acetate, Aloe Vera Extract, Chamomile Extract. Color Developer: Water, Cetyl Alcohol, Hydrogen Peroxide, Glyceryl Stearate, Peg-100 Stearate. Warnings: Do not use this product if: - You have already experienced any reaction to haircolor products. - You have an irritated, sensitive or damaged scalp. Haircolor products can cause allergic reactions which in rare cases can be severe. If you have a tattoo, the risks of an allergic reaction may be increased. Before using this product, you must perform a preliminary 48 hour skin allergy test according to accompanying directions. In rare cases, use of hair dye has been associated with skin depigmentation (skin lightening or loss of skin color), which may be temporary or permanent. If you notice any skin depigmentation or other allergic reaction such as discomfort or severe itching, discontinue use immediately. Do not use this product at all if you have depigmentation problems such as white patches on your skin (a condition called vitiligo) or if you have a family history of skin depigmentation problems, as an allergic reaction may cause temporary or permanent loss of skin pigment. Caution - This product contains ingredients which may cause skin irritation on certain individuals and a preliminary 48-hour patch test according to accompanying directions should be done first. This product must not be used for dying the eyelashes or eyebrows - to do so may cause blindness. Keep product out of reach of children. Not for use on children.