Flexitol® 2 oz. Heel Balm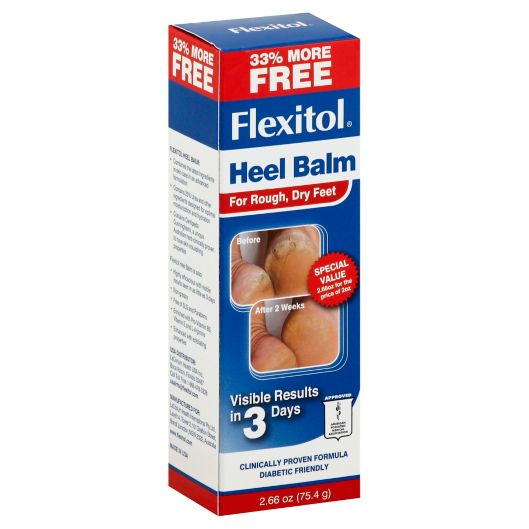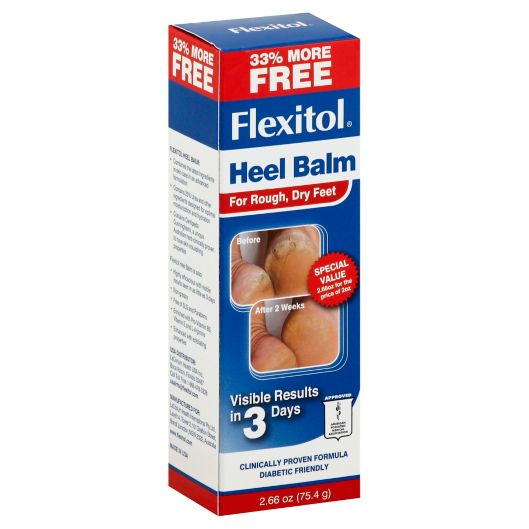 127 people have this in their cart
Details
Powerful and effective for treating dry, cracked heels, the Flexitol Heel Balm works to intensely moisturize so you see results in as little as 3 days.
Flexitol Heel Balm is advanced foot care for rough, dry feet with a powerful formula that combines the latest ingredients in skincare
Visible results in 3 days
Clinically proven formula
Diabetic friendly
Contains 25% urea and other ingredients designed for optimal moisturization and hydration
Contains centipeda cunninghamii, a unique Australian herb clinically proven to have skin nourishing properties
Highly efficacious with visible results seen in as little as 3 days
Non-greasy
Free of SLS and parabens
Enriched with pro-vitamin B5, vitamin E and L-arginine
Enhanced with exfoliating properties
2 oz. bottle
Approved: American Podiatric Medical Association
Made in USA
Manufacturer
LaCorium Health USA
Boca Raton, FL 33487
Directions
Apply to rough, dry, cracked and thickened skin on feet. Apply twice daily, morning and night, until desired results have been achieved. Thereafter, apply as needed to maintain healthy, beautiful feet. Recommended for adult skin only. Store between 50-86 degrees F in a dry place.
Ingredients
Water, Urea, Lanolin, Cetearyl Alcohol, Mineral Oil, Glyceryl Stearate, Decyl Oleate, PEG-20 Stearate, Paraffin, Phenoxyethanol, Sodium PCA, Butyrospermum Parkii (Shea Butter), Allantoin, Centipeda Cunninghamii Extract, Glycolic Acid, Panthenol, Tocopheryl Acetate, Benzyl Alcohol, Melaleuca Alternifolia (Tea Tree) Oil, Arginine, Aloe Vera Gel, Fragrance.
Warnings
For external use only. Avoid contact with eyes. Keep out of reach of children. Always replace cap after use. Discontinue use if local irritation or rash occurs during use.